AUTUMN/SUMMER 2022
Sunday Online Mindfulness Circles July, September and October 2022. (No class in August)

During these sessions we practise mindfulness together as a community as we continue to navigate this time of uncertainty and change.  It's an opportunity for you to experience stillness,  awaken the senses, and come home to the body through heart-centred mindfulness practices.
Whether you've been practising for some time or are new to mindfulness, you're welcome.
 The practice of mindfulness and self compassion help us to tune into and familiarise ourselves with our reality,
discerning what's  important in our changing lives, while also
responding to challenges more skilfully, instead of reacting to what we don't wish to experience.
Compassion – sometimes described as "a lubricant for the heart"   allows us to meet our experience with greater acceptance and care as we deepen into more conscious and tender relationship towards ourselves and others.
I hope you will join me again for some or all of these upcoming sessions:.
Sundays: 10th  and 24th July
Sundays: 11th and 25th September
Sundays: 9th and. 23rd October 
Time

: 10.30 – 11.30 am
Fee: 
6 Sessions : €65. 
2 Sessions/ 1 month:
€25
Single 1 hour Session: €15
To book your place and for payment details on 086/8622012 or at eilis@mindfultherapy.ie.

WE ARE OF A TRIBE
We plant seeds in the ground
And dreams in the sky,
Hoping that, someday, the roots of one
Will meet the up stretched limbs of the other.
It has not happened yet.
We share the sky, all of us, the whole world:
Together, we are a tribe of eyes that look upward,
Even as we stand on uncertain ground.
The earth beneath us moves, quiet and wild,
Its boundaries shifting, its muscles wavering.
The dream of sky is indifferent to all this,
Impervious to borders, fences, reservations.
The sky is our common home, the place we all live.
There we are in the world together.
The dream of sky requires no passport.
Blue will not be fenced. Blue will not be a crime.
Look up. Stay awhile. Let your breathing slow.
Know that you always have a home here.
By Alberto Ríos
8 Week Mindful Self-Compassion Course, Autumn 2022
What is Self-Compassion?
Self-compassion involves treating yourself like you would a good friend who is having a hard time, whatever the circumstances.  Our western culture places great emphasis on being kind to our family, friends and neighbours who maybe struggling. But typically we don't treat ourselves as well as we do those who are close to us.
Self-compassion is a practice in which we learn to be a good friend to ourselves when we need it most – to become an inner ally rather than an inner enemy.
Although a simple way to think about self-compassion is treating yourself as you would treat a good friend, the more complete definition involves three core elements that we bring to bear when we are in pain: Self-kindness, Common Humanity and Mindfulness .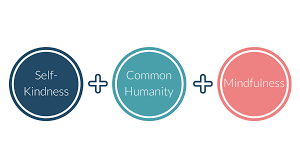 Please contact me if you are interested in registering for this programme.
Meet the facilitator – Eilis Cullen
Trained Mindful Self-Compassion Teacher (CMSC, University of San Diego)
Certified MBSR Teacher, (CFM, University of Massachusetts Medical School)
Post Graduate Certificate Mindfulness-Based Approaches (Bangor University, Wales)
Mindfulness Supervisor (Bangor University, Wales)
Humanistic & Integrative Psychotherapist,  MIAHIP, MECP.
Gestalt Psychotherapist. (Dublin Gestalt Centre)
Board Member Mindful Nation Ireland
"In the end, just three things matter:

How well we have lived
How well we have loved
How well we have learned to let go"
― G. Buddha


 Be where you are; otherwise you will miss your life. – Buddha